Phoenix, Arizona, 1962
Short Stories
Playmobil Corner
Art of Walt Hommel
Art of James Webb
Taffy was a hacker....
Computers' Bill of Rights
Remodeling Forestwood
Are you an artist?
Barbara Woolf
Ranger Rita
Links
Barbara Woolf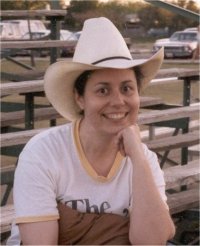 Barbara Woolf
about 1987
Ranger Rita says:
Barbara Woolf was my friend. I went to see her in the hospital on Oct 1, 2003, but she was in a coma. I wrote this poem while I was in the hospital room. She died on Oct 3, just ten days shy of her 59th birthday.

Raven-Haired Angel

by Rita Webb


One foot on the earth, one light-years away
You can't speak to tell what you're seeing today.
Raven-haired angel, your journey begun
To fly through the cosmos, far past the sun.

Someday I'll wing to a long distant shore
We'll see each other, and we'll talk once more
For now, just sleep away all of your pain
Raven-haired angel, through this final rain.

Raven-haired angel, you've fought a good fight
Escape from Earth's darkness, and into the light
All of your sorrow, your tears to gold spun
Sleep, black-haired angel, your day's work is done

Photo © 1987, by Ed Woolf.
Except as permitted under the Copyright Act of 1976, no part of this web page may be reproduced or distributed in any form or by any means, or stored in a database or retrieval system, without the prior written permission of the artist.