Phoenix, Arizona, 1962
Short Stories
Playmobil Corner
Art of Walt Hommel
Art of James Webb
Taffy was a hacker....
Computers' Bill of Rights
Remodeling Forestwood
Are you an artist?
Barbara Woolf
Ranger Rita
Links
Are You an Artist?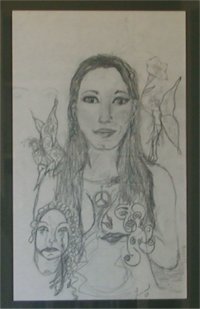 Fairies
©2003, Lana Morgan Adler
Score one point for each of these:
Someone offers you a paying job related to your line of work (i.e., proofreading, illustrating a book, playing cover tunes every night in a bar). You politely refuse because it would take time away from your current art project.
Someone offers to buy one of your finished paintings for a respectable sum. Trouble is, it's your favorite of all your work. You say, "Oh no! Not that one! I can't sell that one!"
Someone offers you a new place to live for the same monthly rent. It's double the size of your current living quarters, and has better furniture. You politely refuse the offer because there's no north light in the new apartment.
Someone gives you $500. You spend every penny on art supplies.
You spent this week's food money on art supplies last Saturday.
You sleep with art supplies next to your bed.
On waking, the first thing you reach for is your art supplies.
You don't eat much while you're working on a project.
You hesitate to tell people that you're an artist because
they'll either stare at you as if you were an animal in the zoo, or else they'll waste your time talking about how they wish that they were artists and could Be On Talk Shows.
You sleep 4 hours or less per 24-hour period, in the heat of a project.
You become extremely irritable when interrupted while working.
You have a notebook (or sketch pad or musical instrument) that seems to be surgically
attached to your hand.
When you're blue, your artwork pulls you through.
When you're kept from your artwork, you become suicidal.
You've tried to give up art, but it nearly killed you.
You become annoyed when people hint that you're writing or singing or painting or dancing to attract lovers, or to Be On Talk Shows.
In the heat of a project, sex and love are something of a letdown.
You become suicidal as you watch an artist, whose work is much inferior to yours, walk away with a Grammy, or appear in the Book-of-the-Month Club flyer, or obtain gallery representation. If you merely become jealous, then you're like everybody else. The fleeting (or not-so-fleeting) Smith and Wesson fantasy is the realm of the artist.
You continue to revise here and there, even after you've declared a work finished.
You've destroyed at least one of your own finished or nearly-finished works, because, after studying it, you realize that it doesn't fit your theories of what constitutes art.
Deduct two points for each of these:
You spend more time talking about being an artist than you do actually painting or writing or practicing.
You've paid money to go to a "workshop" seminar.
The "workshop" was in another country, or on a cruise ship.
You use your art to obtain sex and love (includes quasi-hagiographic work "about" someone else).
You're able to contentedly do work for money in your field (i.e., proofreading, illustrating a book, playing cover tunes every night in a bar).
You dream of Being On A Talk Show, and having your opinion count for something.
You can go for more than a day without touching your art materials, and still remain sane.
Scoring:

-14 to +2 Thanks for reading this far.
3 to 14 You think that Elton John and Norman Rockwell and John Grisham produce art.
15 to 20 You know what I mean.


©2005, Rita Webb.